Carolyn's Farm Kitchen Cooking Show Recipes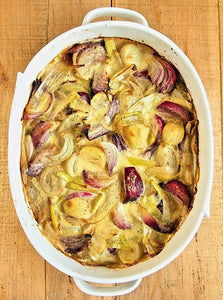 ROASTED ONION GRATIN Yield:  6+ servings Ingredients: 3 lb. farm onions (can use a mix of yellow & red onions, leeks, and/or shallots) ¼ c. extra-virgin olive oil Kosher salt, cracked black pepper to taste 2 Tbl. unsalted butter ¼ tsp. paprika 2 Tbl. flour ¼ c. white wine 1 c. heavy cream ½ c. finely grated parmesan ½ c. crumbled gorgonzola (can substitute with fontina, gruyere, or all parmesan) Preheat the oven to 350.  Peel and cut whole onions into 1" wedges, leeks into 2" pieces, and the shallots into quarters. Toss the onions with the oil and season...
---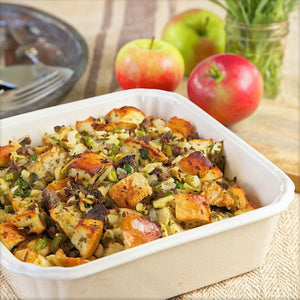 HERB-ROASTED TURKEY WITH CIDER PAN GRAVY Yield: 8-10 servings Ingredients: One 10-12 lb. fresh turkey Kosher salt, cracked black pepper to taste ¼ cup (1/2 stick) unsalted butter, at room temperature 3 Tbl. mixed chopped fresh herbs (2 Tbl. if using dried herbs) such as thyme, savory, parsley, rosemary, or marjoram ½ tsp. kosher salt ¼ tsp. black pepper 1 small onion, cut into quarters 2 carrots, coarsely chopped 2 celery stalks, coarsely chopped Gravy: 4 Tbl. butter 1/2 c. flour 3/4 c. apple cider 2 1/2 - 3 c. turkey stock (use defatted reserved pan juices along with additional...
---
Perfect Boiled Eggs Method: Bring a large saucepan of water to a boil and add a couple drops of white vinegar (tips: use a large enough pan to prevent overcrowding and enough water to cover eggs by at least 1-2 inches of water).  Ideally use room temperature eggs. Place eggs on a large spoon and gently lower them into the boiling water.  Bring the water back to a gentle boil over medium-high heat, then start the timer for desired stage. Meanwhile prepare an ice bath filling a bowl with cold water with lots of ice. When the eggs are done...
---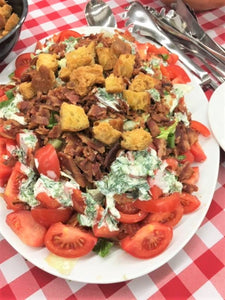 Summer is here and we're cooking up dishes that are simple, portable, and can easily be made ahead.  More time to enjoy outside at the park or beach rather than in a hot kitchen!  Enjoy:) BLT Salad with Buttermilk-Herb Dressing Yield:  4-6 servings Dressing: ½ c. good-quality mayonnaise ½ c. buttermilk 2 Tbl. finely minced celery 1 small clove garlic, minced 1 Tbl. each fresh chopped dill and chives (can also use parsley, basil, tarragon) Kosher salt, cracked black pepper to taste Salad: 1 lb. applewood smoked bacon, cooked crisp, drained, coarsely chopped ½ head each iceberg and romaine lettuce,...
---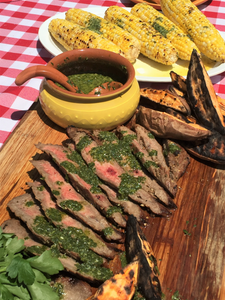 Grilled Flank Steak with Herb Mojo  Yield: 5-6 servings  Mojo Ingredients (yields approx. 1 cup)  1 c. packed fresh parsley leaves  1 c. packed fresh cilantro leaves  2 Tbl. fresh oregano leaves (or 2 tsp. dried oregano)  2 lg. cloves garlic  ½-1small hot chili pepper, seeds removed (or ¼ tsp. crushed red pepper flake)  1/3 c. extra-virgin olive oil  ¼ c. red wine vinegar or sherry vinegar  Kosher salt, cracked black pepper to taste  1 1/2 -2 lb. flank steak Prepare the mojo: In a food processor combine the parsley, cilantro, oregano, garlic and chili pepper, pulsing until finely chopped.  With the machine running...