Carolyn's Farm Kitchen Product Recipes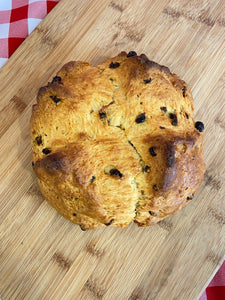 Yield: 1 very large loaf of 2 smaller loaves  One package Carolyn's Farm Kitchen Buttermilk Fruit Scone Mix 1 stick butter, melted & cooled 2/3 c. Orange juice 1/2 c. Milk or buttermilk 2 Tbl. Honey  1 c. Raisins  In a medium bowl whisk together the butter, orange juice, milk, and honey.  Add the scone mix and raisins and stir until just combined (dough will be sticky). Divide dough into 2 halves (or leave as one large loaf), place on a well-floured surface, snf shape into tight rounds.  Place on a baking sheet spaced apart and use a serrated knife to...
---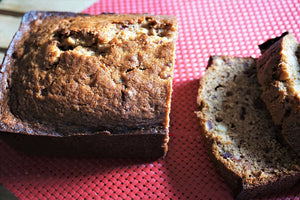 Date Nut Bread: Soak 2 c. chopped dates in boiling water for 15 minutes - drain and cool.   Prepare our Fresh Apple Bread Mix as directed but add ½ cold water to the wet ingredients. In place of apples add the dates and ½ c. chopped walnuts.  Spread batter into a greased 9x5x3" loaf pan and bake as directed according to package directions.
---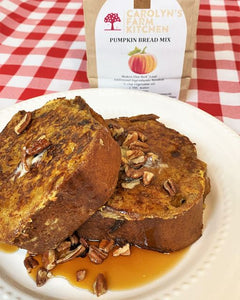 PUMPKIN BREAD FRENCH TOAST    Using our pumpkin bread mix, this treat is perfect for chilly autumn mornings!! Ingredients: 2 servings Four 3/4"-thick slices of Carolyn's Farm Kitchen Pumpkin Bread 2 large eggs 1/3 c. milk Butter Toppings: maple syrup, nuts, raisins, dried cranberries, whatever:) Whisk together the eggs and milk in a shallow dish and soak the pumpkin bread slices for at least 5 minutes (you want it absorbed but not falling apart). Meanwhile, preheat a griddle over medium-high. Add a small amount of butter to the griddle and cook slices for 3-4 minutes per side or until well...
---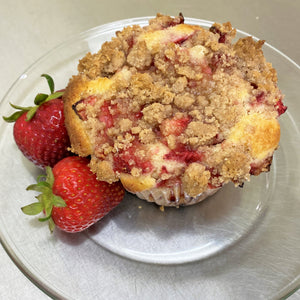 Native strawberries and our baking mix make these Strawberry-Crumb Muffins delicious and easy to make! Yield: 10-12 muffins Ingredients: 1 package Carolyn's Farm Kitchen Blueberry Muffin Mix Approx. 2 1/2 cups hulled & chopped fresh strawberries Crumb Topping: 1 cup flour, 1 cup granulated sugar, 1 Tbl. cinnamon, 1 stick melted butter  (combine all ingredients in a bowl until well blended) Method: - Assemble mix according to package directions.  Fold 1 cup only of chopped strawberries into the batter (it won't seem like enough but it's correct!). Portion batter into lined muffin cups, filling only halfway, and top each muffin...
---
Made using our Blueberry Muffin Mix, this is super-moist made and loaded with fresh lemon flavor!  As always, easy assembly and warm from the oven in under an hour.  YUM!   Simply prepare package according to instructions with the following changes: - Replace milk with 2/3 cup plain yogurt - Add the juice and zest of one large lemon to the wet ingredients before assembly Spread batter into a greased 9x5x3" loaf pan and bake at 350 for 45-55 minutes, or until no longer wet in the center when tested.  Remove from the oven and cool completely before turning out of...